The registration procedure of conformity declaration has been simplified
25 June 2012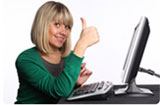 From June 1, 2012 in connection with the entry into force of the Order № 76 of 21.02.2012 of the Ministry of Industry and Trade of the Russian Federation, the procedure of the registration of Declarations of Conformity has been changed. The new rules apply only to the declarations of conformity to Technical regulations of the Russian Federation and the Customs Union. In addition, the procedure of forming and maintaining of a single register of declarations of conformity has approved.

Under the new rules, the applicants can choose now where to send application for the registration of the declaration: to a certification bodies or directly to the Federal Accreditation Service (Rosakkreditatsiya). The applicant may apply to the certification body in person or by the post. In this case, the body shall submit the declaration to the Rosakkreditatsiya.
From January 1, 2013 it will be possible to send the application to the Federal Accreditation Service by the internet.

The Declarations of Conformity are registered within three days. They are assigned a registration number and the information about them is stored in the declarations database.

In this regard, the previously existing Government Decree № 1028 of December 25, 2008 "On Approval of the formation and maintenance of a unified register of declarations of conformity, registration, declaration of conformity, the provision contained in the specified registry information, and payment for the provision of such information" lost force.