Certificate & Declaration of Conformity of the Customs Union (EAC)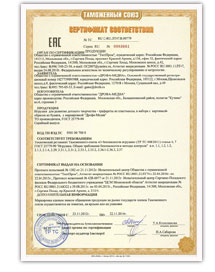 The certificate of conformity is a document of the Customs Union, in which bodies are independent of producers and consumers attest to the suitability of a product with certain safety requirements established by technical regulations of the Customs Union.The Customs Union is made up of three countries: Russia, Belarus and Kazakhstan, which adopted a single system of standards and technical regulations.
The declaration of conformity certificates and Customs Union, issued by a Customs Union Member States are valid on the territory of all Member States.
The release for free circulation of goods imported into the customs territory of the Union or which can not be made ​​without such documents.