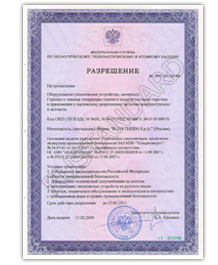 RTN Permit (formerly known as GGTN Permits to Use) provides permission to operate hazardous equipment/technical devices. It is needed from the time of commissioning and throughout the whole service in life to assure equipment safety compliance. The Industrial Safety Approval System has been regulated in Russia by the Federal Law "On Industrial Safety of Hazardous Industrial Facilities" № 116-FZ dated on 21.07.1997. The field of Industrial Safety is entrusted to the Federal Service for Ecological, Technological and Nuclear Supervision or Rostekhnadzor (RTN). Previously, it was supervised by the Federal Mining and Industrial Inspectorate of Russia, or Gosgortekhnadzor (GGTN). Rostekhnadzor is also responsible for the field of environmental control formerly supervised by the Federal Service for Environment and Nature Management Supervision.


Russian Certificates Required Prior to RTN Permit to Use
GOST R Certificate of Conformity – For electrical ex-proof and other types of equipment
GOST R Pattern Approval Certificate – For measuring instruments

Application Scope
RTN Permits to Use are required for hazardous equipment or technical devices to be operated at plants where the following hazardous materials are produced, used, processed, stored, transported or utilized:

1) equipment to be operated under pressure ≥ 0.07 MPa or at a water temperature ≥ 115°С;
2) oxidizing agents;
3) fuel, explosives, flammable materials;
4) toxic materials and highly toxic materials;
5) environmentally non-friendly materials;
6) hoisting equipment, escalators, cableways, lifts;
7) equipment to be operated at plants producing melts of ferrous and nonferrous metals;
8) equipment for mining activities, mineral dressing, or works in underground conditions.



 download the full list in Russian (57 KB)



 download the full list in English (20 KB)


Types of Permits to Use:
Permit for one Technical Device. Applicable if you only need to supply to Russia one piece of equipment.
Permit for one Consignment. Applicable if supplying more than one technical devices within one shipment to a Russian customer. A complex industrial installation or a complete plant requires a single permit if all of its components are inter-connected in terms of technical functions and each of them meets industrial safety requirements.
Permit for a Line of Technical Devices. Applicable for selling equipments to Russia that have similar application scope, design approach, materials and technologies.


RTN Permit to Use Validity
A Permit to Use is valid for 5 years or for the whole duration of the device's operation life.


Procedure
RTN Permits to Use for imported equipment can be issued exclusively by Rostekhnadzor headquarters in Moscow.
To obtain an RTN Permit, a full documentation review is carried out by a Rostekhnadzor licensed agency.
Three main areas covered by the review:
Design Safety – Check of design, materials and calculations.
Operational Safety – Maintenance and repair instructions, control systems, hydraulics, etc.
Environmental Safety – Control of leakage, potential explosions, electrical safety, ventilation and soundproofing.
Results of the review are then compiled into a document called Expert Conclusion.

Positive Expert Conclusion – The equipment conforms to the relevant norms and standards, the document is submitted to the Rostekhnadzor headquarters with the application for permit issuance.
If the equipment is found not to conform to the relevant norms and standards, a permit may still be issued, specifying restrictions for the use of the device. This decision is still the discretion of Rostekhnadzor. Duration of expertise depends on the product complexity but should not exceed 3 months starting from the provision of the full set of documents.

Processing of the Expert Conclusion and registration of the permit in Rostekhnadzor is maximum 2 months.


Last Updated on: 22 June 2021