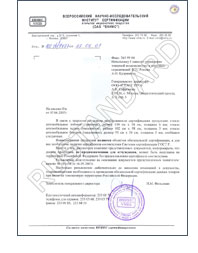 Exemption Letters are required to prove that a product exported to and/or sold in Russia is not subject to obligatory GOST R Certification.
Exemption Letters might be requested by Russian customs authorities in case of ambiguous product coding due to discrepancy between the Russian Product Classification and the Foreign Trade Classifications.

Procedure
Exemption Letters are produced by the All Russia Research and Development Certification Institutes.

Steps on issuing an Exemption Letter:
Review of documentation – contract or invoice for delivery of goods in question, product technical descriptions, etc.
Product identification - according to the Russian Classification System.

Expert Conclusion
The whole procedure usually takes five to seven working days.


Last Updated on: 23 June 2017