In Russia has been issued the first Customs Union certificate of conformity
17 March 2011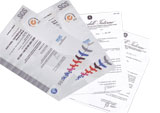 Thursday, March 10, 2011 in Russia was issued the first certificate of conformity of the Customs Union. The company that can claim the distinction of being the first owner of the new type of certificate, which can be used on the whole territory of the Customs Union, is situated in the Republic of Tatarstan.
Please note that the Customs Union code entered into force on 01/07/2010.


In accordance with the agreements of the Union, the three countries will gradually align their regulatory system in the field of technical regulations and will start issuing the same type of compliance documents.