VNIIS restarts to release the explanatory letter to the Customs
16 December 2010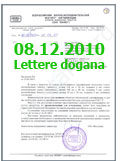 On 13 December 2010 the Deputy Minister of Ministry of Industry and Trade of the Russian Federation, V. Salamatov sent a letter to the Director of the Federal Customs Administration, entitled "On the issue of termination letter indicating for imported products."
This measure was adopted by virtue of the abolition of the Commission of the Customs Union art. 5 of the Regulations concerning the procedure for importing the products against which the Customs Union is expected to mandatory certification.
Applications submitted to the Ministry issuing the dop December 8, 2010 will not be processed.
The issuance of letters of exemption for customs and then back under the purview of the VNIIS.