New registration rules for alcoholic beverages came into force in Russia
09 September 2010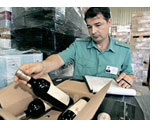 A few days ago, the situation regarding the certification of wines has affected the head of the Federal Service for the protection of consumer rights and welfare of the people (Rospotrebnadzor) Gennady Onishenko. The entry into force of the new code of the Customs Union on health care has introduced some innovations in this area. If wine was first to import the certification required sanitation, now this product is in the list of products for which the health certificate is required or the registration of the customs union Medicare, as they call it in Russia.
The event has raised much controversy among the major importers of wine in Russia, as new information on the certification process of the alcohol was only made ​​known July 29 with a circular from the Federal service, in which he lists 11 types of beverages alcoholic beverages for which it was requested by July 1 the new certificate. It 'was also changed the list of documents required for issuing the health certificate of the customs union. The difficulties encountered were in obtaining the certificate of free sale in the country of origin because the document before being presented to the Russian authorities must be legalized by the prefecture under the Hague Convention of 05/10/1961.

Among the most affected were those importers who imported wines new never imported before 1 July in Russia, which had not yet got the old certificate of sanitation, which while not the most issued on or after 1.7.2010 is still valid up to 01/01/2012.
In this regard it is worth noting that prior to 01/01/2012 all wine importers must comply with health regulations of the customs union and get the new health certificate.