From Customs Union to the Eurasian Economic Union
20 January 2017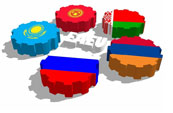 Good news for European manufacturers and traders in general. Now companies that have their products marked EAC can also export them to Kyrgyzstan and Armenia. On 01/01/2015 an international Treaty went into effect. The Treaty was signed in Astana on 29/05/2014 by the founding countries: Russia, Belarus and Kazakhstan, which established the Eurasian Economic Union, later joined by Armenia (01/02/2015) and Kyrgyzstan (08/12/2015).

The aforementioned Treaty provides, in fact, the gradual adoption by the new Member States of all the Technical Regulations of the Customs Union so far adopted in the Union.

Some changes to the form of certificate and declaration of conformity and to their compilation instructions came into effect on 22/12/2016. Here is the summary of the most important changes:

1. Changed the header of the conformity documents from Certificate and Declaration of Conformity of the Customs Union to Certificate and Declaration of conformity of the Eurasian Economic Union.

2. Removed the fax number, considered an obsolete requirement.

3. It became mandatory to indicate the number of the scheme (module) used to issue the certificate / declaration of conformity.

4. It became mandatory to specify in the certificate and in the declaration of conformity GOST standards applied on voluntary basis to ensure compliance with the essential safety requirements of the Technical Regulations.

5. Changed the first letters in the number of the certificate and the declaration of conformity: from TC (acronym of Customs Union in Russian) to ЕАЭС (acronym of Eurasian Economic Union in Russian, for example: ТС RU Д-IT.AA00.В.00000 vs. ЕАЭС RU Д-IT.AA00.В.0000).