Certification of furniture in Russia: requirements and certifications
06 February 2012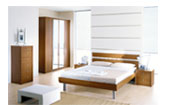 Russia is a major importer of furniture and furniture made in Italy. The style, quality and Italian design has always been appreciated by the privileged classes and sectors of the Russian population. To be imported and sold freely, however, these products must undergo certain procedures for conformity assessment, which we will briefly describe in this article.

The first thing to do is to make an accurate classification of the product according to the internal classifier (Russian) product (ОКП). At present not all types of furniture are included therein.

The subdivision of the furniture in order of their conformity assessment is carried out according to the following criteria:

1) for age: mobile adult vs. children's furniture
2) Type: Mobile Home vs office furniture
3) by feature: wall furniture (wardrobes, desks, drawers, shelves, etc.) vs. furniture to sit and lie down (chairs, beds, sofas, etc.., Including upholstered furniture).
4) sold in kit: complete supplies (including articles of different types, but are made with the same style) vs each item sold separately.

Certificate of compliance required for the import and marketing of furniture in Russia.

From 15/02/2010 for all types of furniture and furnishings, regardless of the materials used, is required declaration of conformity GOST R, including children's furniture (the Russian Government Resolution no. 982 of 01/12/2009).
However, for these products is always possible to obtain the certificate of conformity GOST R voluntary, valid for one shipment (contract) or for mass production.

Also, before the 01/07/2010 for furniture and furnishings was also requested the opinion of the sanitary Rosportebnadzor (Federal Service for the protection of consumer rights and welfare of the people), which was abolished following the regulations came into force only in the EurAsEC Customs Union health.

The issuance of the declaration of conformity GOST R requires compliance with the requirements of the furniture of the following Russian standards:
• GOST 16371-93 furniture. General characteristics;
• GOST 19917-93 furniture to sit and lie down. General characteristics.

The above-mentioned standards can, also, be used as normative documents of reference in the seat of the GOST R certification voluntary.

We must also emphasize that the components of the furniture (facades, Furniture case) and accessories are not subject to mandatory conformity assessment and therefore does not require any documentation of compliance.
Prior to the clearance of these products will be sufficient to obtain the letter of exemption for the Customs, and before placing on the market letter of exemption for trade.